4990 Rock Raiders HQ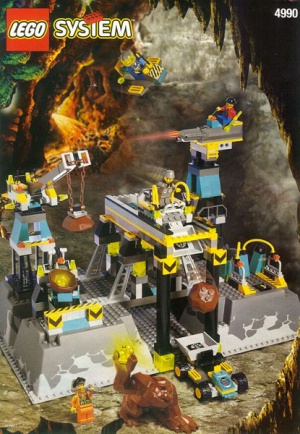 4990 Rock Raiders HQ is a Rock Raiders set released in 1999. It contains 402 pieces and has an MSRP of $80. It features Bandit, Docs, Jet, Sparks, and a rock monster in the Rock Raiders HQ. The main part of the set was the Rock Raiders HQ, also called the Underground HQ and the Ore Processing Plant. This structure is composed of four major buildings: they resemble the Upgrade Station (called the Crane), the Mining Laser (called the Brickonium Blaster), the Teleport Pad (which served as a parking space for the hovercraft), and the top of the Power Station (which was used to cut open rocks), as well as a building that carries and deposits LEGO ore boulders, slightly resembling the Ore Refinery. It also included 2 vehicles: the Small Transport Truck, and a small unnamed hovercraft.
The original catalog description said: "You call all the shots at this busy underground base! Send off the Brickonium search team and transport the precious ore in the all-terrain rock mover. Crystals too heavy for mere humans to move? Let the crane do the hard work! Whatever you do, make sure you don't surprise the Rock Monster. He looks like solid rock, but is a whole lot meaner! Comes with an All-Terrain Rock Mover, hovercraft, digging tools and 4 Rock Raiders. 2AAA batteries are required to operate the Brickonium Blaster (not included)." It was labeled for Ages 8-12 with an original list price of $88. First edition releases includes a small comic.

'
Set Details
Set Gallery
Inventory