4950 Loader-Dozer
From RRU Knowledge Base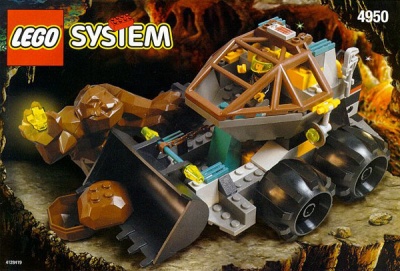 4950 Loader-Dozer is a Rock Raiders set released in 1999. It contains 89 pieces and has an MSRP $20. It features the Loader Dozer, along with Axle, a rock monster, and a boulder with an energy crystal. On the box and the back of the instructions, there are two alternate aquatic build designs: a long craft with a cargo hold in the middle, and a shorter craft with the Loader Dozer's scoop on the back and an exposed energy crystal powering it.
The original catalogue description said: "Scoop 'em up and roll 'em away in this super-hefty dozer. It's so tough, even a Rock Monster can't break it apart! Use the shovel to scoop rocks and boulders out of the way so you can get your hands on the Brickonium! Includes one Rock Raider and the Rock Monster." The set was labelled Ages 7-12 with an original list price of $22. First edition releases includes a small comic.
An alternate release of this set was advertised as 4959 Loader-Dozer, and it was listed at the same price. It was seemingly never released, and was likely a typo in the catalogues mentioning it.
Set Details
Set Gallery
Inventory