4980 Tunnel Transport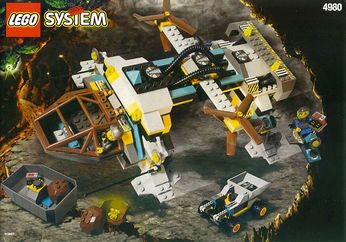 4980 Tunnel Transport is a Rock Raiders set released in 1999. It contains 341 pieces and has an MSRP of $50. It features Docs and Jet, with the Tunnel Transport, Small Digger, and Hoverboard. It also includes dynamite, a detachable cargo bucket, and two boulders, each with an energy crystal.
The original catalog description said: "Use a powerful magnet to haul your crew to safety! Imagine - you're deep in a tunnel beneath tons of solid rock. Suddenly you sense danger! You need to be able to get out FAST - and that's just what the Tunnel Transport does. Comes with 2 Rock Raiders." It was labeled for Ages 8-12 with an original list price of $54. First edition releases includes a small comic.
Set Details
Set Gallery
4980Page32.jpg

Back of Instructions showing Functionality
Inventory