4940 Granite Grinder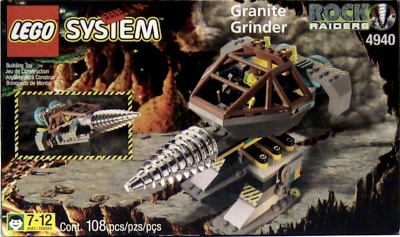 4940 Granite Grinder is a Rock Raiders set released in 1999. It contains 108 pieces and has an MSRP of $15. It features Axle with the Granite Grinder. On the back of the box are three alternate builds: a flying drill craft (also featured on the front), a long building with a drill and cargo hold, and a shorter building or large hovercraft with a cargo hold.
It was labeled for ages 7-12 with an original list price of $16.50. First edition releases included a small comic.
Set Details
Set Gallery

To do: find back of box art
Inventory