Rocky Horror
From RRU Knowledge Base

This article is an unfinished work in progress or contains transferred information that needs to be rewritten or reformatted to fit our standards. Please excuse the mess and do not mark for deletion.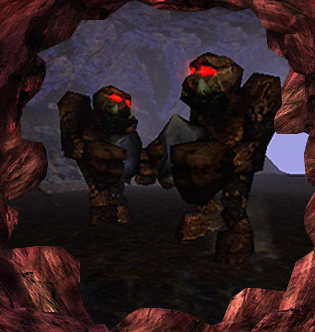 Rocky Horror is the twenty-fifth and final level in the Windows version of LEGO Rock Raiders. It is unlocked by completing Back To Basics. Completing it plays the End Game AVI and credits sequence.
Overview
The objective of this mission is to collect 50 Energy Crystals.
There are also several Slimy Slug Holes, but there is no NERPs code to trigger Slimy Slugs emerging.
There is a massive island with a massive load of Energy Crystals at the very top of the map, surrounded by Lava in a Hidden Cavern.
Objective text
Objective text
Objective
This is it, Rock Raider. This is what it's all been building up to! We know there is an abundance of Energy Crystals deep in the caverns around our Rock Raider HQ. The scanners show that there are Rock Monsters all over the place. This mission will be your toughest yet, but it must succeed if we are to escape from the planet and return home. Establish the Rock Raider HQ as a formidable outpost and transport the most powerful mining machinery you can. You'll need all of it if you are to collect the fifty Energy Crystals that we still need. Take care down there, Rock Raider!
Failure
So near and yet so far! We really needed fifty Energy Crystals so that we can get home. You must succeed. Have another go. Mission failed.
Completion
Your efforts have been outstanding! You've collected enough Energy Crystals to get the Rock Raiders team back home. You're amazing! Mission complete.
Crystal Failure
Too many Energy Crystals have been stolen for you to be able to complete this mission.
In-game NERPs messages
Message 1
Build up base defenses and transport powerful mining vehicles.
(Plays after five Rock Raiders have been teleported down)
In other languages
Names
Language
Name
Meaning
Czech Čeština
Kamenná hrůza
Danish Dansk
Klippegyseren
Dutch Nederlands
Grof geschut
Hebrew

עִבְרִית


Ivrit
אי‬מת הס‬לעי‬ם
Japanese

日本語


Nihongo
恐怖のどうくつ
Korean

한국어


Hangugeo
암석의 공포
Norwegian Norsk
Skrekk og grus
Polish Polski
Kamienny horror.
Russian

Русский


Russkiy
В объятиях ужаса
Spanish Español
Sopa de rocas
Swedish Svenska
Klippigt värre
French, German, and Italian releases left this level's name unchanged
The language table above is missing information for Portuguese.
Objective text
Italian
Objective text
Objective
Ci siamo, Rock Raider. È finalmente giunto il momento della verità! Sappiamo che le profondità delle caverne intorno alla nostra base sono ricchissime di cristalli energetici. I sensori indicano che la zona brulica di mostri della roccia. Questa sarà la missione più dura che tu abbia mai affrontato: se vogliamo lasciare questo pianeta e tornare a casa, però, non possiamo permetterci di fallire. Costruisci una base sotterranea all'altezza della situazione e teletrasporta tutti i più potenti macchinari da scavo che hai a disposizione. Ne avrai sicuramente bisogno per riuscire a raccogliere i cinquanta cristalli energetici che ancora ci servono. In bocca al lupo, Rock Raider!
Failure
Eravamo così vicini al successo! Abbiamo assolutamente bisogno di cinquanta cristalli energetici per poter tornare a casa. Devi farcela. Riprova. Missione fallita.
Completion
Hai portato a termine un'impresa memorabile! Hai raccolto i cristalli energetici necessari per riportare a casa la squadra dei Rock Raiders. Sei un grande! Missione completata.
Crystal Failure
Sono stati rubati troppi Cristalli Energetici perché tu potessi portare a termine la tua missione.
In-game NERPs messages
Message 1
Costruisci le difese della base e teletrasporta i più potenti mezzi da scavo.
Notes
The menu icon for this level is far larger than any of the others, and appears to be at the very center of the planet.
The name of this level is a reference to the film The Rocky Horror Picture Show.