Back To Basics
From RRU Knowledge Base

This article is an unfinished work in progress or contains transferred information that needs to be rewritten or reformatted to fit our standards. Please excuse the mess and do not mark for deletion.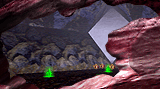 Also see: PC Game Levels
Overview
Collect 45 Energy Crystals
Cut Scene
Objective
OK, Rock Raider - are you ready for the next mission? Listen carefully, as this is a tough mission. We have located a cavern close to the center of this planet and we need to establish our Rock Raider HQ there, before the final push! The problem is that there is a very limited supply of Energy Crystals and Ore in the area, so only build what you really need. Be careful not to use too many resources, remember that every Energy Crystal counts and you'll need every last one if you are to achieve the forty-five total needed.
Dangers
Terrain
Hints
This is one of the largest caverns in the game. Crystals are scattered throughout. Slimy Slugs will attack the base depending on how many crystals are stored. The closer Rock Raiders get to the objective, the more Slimy Slugs will attack. There is a small cavern to the left of the Rock Raider HQ with an island of Energy Crystals. If a Tool Store can be fitted there, they can be collected. There are also plentiful crystals in the northwest.
Failure
We needed forty-five Energy Crystals but you didn't manage to collect enough. Are you sure you didn't waste any? Mission failed.
Success
You managed your base construction very well. The forty-five Energy Crystals you collected must have been very hard to get. We're getting very close to the end now. Good work! Mission complete.
Unlocked Level
Unlocked by
In other languages
Names
Language
Name
Meaning
Czech Čeština
Zpátky k základům
Danish Dansk
Tilbage til begyndelsen
Dutch Nederlands
Een beetje improviseren
French Français
Retour aux origines
German Deutsch
Auf Sparkurs
Hebrew

עִבְרִית


Ivrit
כללי‬ם ק‬לי‬ם
Italian Italiano
Ritorno al principio
Japanese

日本語


Nihongo
基本を忘れるな!
Korean

한국어


Hangugeo
기초로 돌아가기
Norwegian Norsk
Sjakt matt
Polish Polski
Od podstaw.
Russian

Русский


Russkiy
Вспомни о главном
Spanish Español
Vuelta a la base
Swedish Svenska
Basbehov
The language table above is missing information for Portuguese.